Road trips are a challenge.
They are a vacation, sure, but they are not… a "retreat". You have to be a trooper. You have to sit in a car for hours, carry heavy luggage and coolers in and out of questionable motels, navigate totally unfamiliar roads, and make a real effort to get to know the cities you visit, because there's no one giving you an agenda.
With every road trip that I go on, I realize how different they are from other types of vacations. You might not become thoroughly acquainted with any one city, but you get to know the world well. Because as you travel down those highways and freeways you are rapidly seeing new places, new people, new cultures. You may not get a long drink of any of them but those quick little tastes of adventure give you the big picture of the region you are exploring.
The reason I am talking about all this is because I'm about to tell you about my latest trip :) In August, I traveled with my dad and my brother down to South Carolina to see the solar eclipse. As soon as I told my dad about this once-in-a-lifetime event (a solar eclipse going across the entire US) back in the spring he decided - we must go.
So we planned a trip. Or, not really. We didn't do much planning. We just picked some dates and went. We booked hotels along the way, and found tourist attractions on the spot. It's a little different to my style of traveling. I wanted to make maps and lists and schedules, but my dad assured me it would be nice to just explore freely. So I let go.
We left our home in @#*%)# (No, I did not just swear, I just don't want to give away my hometown on the internet). Our first stop was Indianapolis. We were there with one simple goal that was rained out when we visited the city on our previous road trip. We were going to ride a surrey bike around the canal. It was hot and sunny, but dry, so the plan was a go.
The surrey was a cute little thing and easy to pedal. It had two steering wheels, although only one controlled its path. I sat behind the fake one, but due to having just learned how to drive, I would turn it by instinct. My dad would look over, "You know the wheel doesn't do anything, right?".
We rode along the GORGEOUS Canal 337. I loved all of the cute little cafes and apartments on its edge, and there were so many people walking and jogging. I was like - I want to live here (I would soon realize these would be my exact thoughts in almost every city we visited).
We drove past Columbus, the hometown of Twenty One Pilots. Sadly, we did not spot them. I believe they were on vacation. Sad. However, I can see why they like it there. It's a beautiful city and the German Village is adorable. (Also see picture at the beginning of the post).
In Pittsburgh, we took a trolley up a very steep hill. So steep, in fact, that the trolley was built diagonally. It was a short, slow ride with incredible views. We explored the neighborhood at the top of the hill, saw a beautiful church, witnessed an outdoor yoga class, and took many pictures. It was there that I decided that the formula for my dream city would be as such: big city + hills. I had visited San Francisco before and fallen in love. Now Pittsburgh confirmed for me that this formula holds true on the other side of the country as well.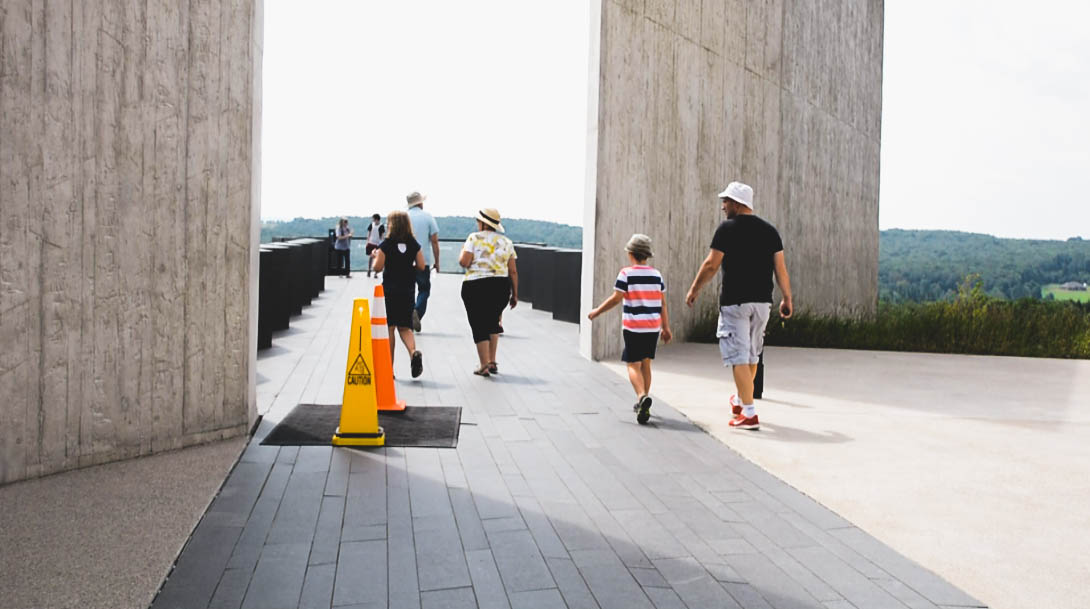 The next morning we found out that the Flight 93 Memorial was right on our way, so we stopped there. I was expecting a small little exhibit but was very impressed by the sobering breadth of the memorial. It was quiet and breezy and people spoke in low voices. It was hard to believe that such a terrible thing had happened in such an inconspicuous prairie. While listening to recordings of phone calls made by people on the hijacked plane, I wanted to cry. To everyone that was on the plane that day and showed incredible bravery - thank you.
Baltimore was next. While driving around town I spotted a West Elm with all glass windows. I was practically drooling at all of the gorgeous mid-century modern furniture, but sadly, we didn't make a stop there. Instead, we parked our car and went down by the water, where a crowd was gathered around a street performer singing and dancing to "24K Magic". Little dragon-shaped boats bobbed in the water. Joggers weaved their way along the water.
We ate at a Cheesecake Factory. I had this amazing California Guacamole Salad, although the portion size was insane. Even my dad's jaw dropped. I don't know about you but too-big portion sizes kinda bum me out, because you feel like you have to eat as much as you can and then you're full and then the meal no longer feels pleasant… Maybe my rambling doesn't make much sense, so I shall continue. We had cheesecake, of course. You are kidding yourself if you think I did not have cheesecake. It was chocolate hazelnut flavored and it was spectacular. There's a time and place for healthy road trip snacks and a time and place for cheesecake :)
And I would say that's a pretty good place for part 1 of this road trip diary to end. I hope you enjoyed reading it! I'll have part 2 up on Thursday, so keep an eye out :) Here is a quick reference of the places that we went to (that I can remember), if you are interested:
INDIANAPOLIS
Wheel Fun Rentals
PITTSBURGH
Monongahela Incline (this is the one we visited)
Duquesne Incline (another trolley you can take)
BALTIMORE
Cheesecake Factory
Have you traveled anywhere recently?
Happy Sunday!